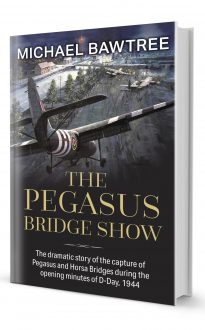 The Pegasus Bridge Show by Mereo Books
by Michael Bawtree
This dramatic story by famous actor and producer Michael Bawtree is told in 'free-cantering' verse, and tells of the capture of Pegasus and Horsa Bridges during the opening minutes of D-Day, 1944.
This book is a dramatised account of the critical operation to capture Pegasus Bridge by Allied forces in 1944, in the opening stages of D-Day. It is based on an earlier show and DVD presentation by the same author, with original words and music that set the event within the history of previous cross-Channel campaigns.
This account draws on the memories of some of those involved and the author's own experience of serving in the same regiment. As with the show, all profits from sales of the book will be donated to The Veterans' Charity, set up to provide assistance to ex-servicemen and women in time of need.
Published: 1 October 2021
Pages: 58
ISBN: 978-1-86151-017-4
Size: 203 x 127
Price: £8.00
Format: Paperback
Available to buy at:
Barnes and Noble, Amazon.co.uk, Waterstones, Amazon.com, WH Smiths, Google Books and all good bookstores