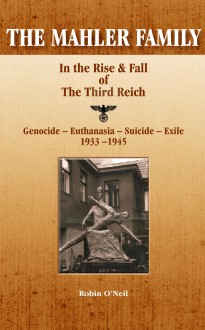 The Mahler Family
by Robin O'Neil
'One does not normally connect Gustav Mahler with the holocaust, which came much later – but the seeds of the persecution were already there, in Vienna, in the ever-present anti-Semitism which Mahler himself had to suffer and deal with; and of course members of his family were caught up in the tidal wave of the holocaust when it came. Robin O'Neil's book is valuable in that it is the only one that makes this necessary connection. Coming events cast their shadow before. In a sense one is pleased that Mahler was spared this awful development, unlike his friend Arnold Berliner.' – Charles Muller: Diadem Books.
Through the Mahler family letters between Gustav Mahler and the physicist Arnold Berliner, we are privy to their inner thoughts and daily musical life during Vienna's 'golden autumn' that preceded the turbulent times that followed. After Mahler's passing and with the rise of National Socialism, we follow the lives of the extended Mahler family, their friends, associates, and Vienna's musical and operatic elite. With the introduction of the Nuremberg Laws, we observe the frontal attack on European Jewry and subsequent deportation policy enabling a 'Jew-free' Reich, where many close friends and family were to end their days in exile and the death camps of Nazi Germany. We follow Dr Berliner into the world of German scientific research, where among this collective of scientists, Berliner's close friend is the highest-placed British spy in Germany throughout World War II. This was significant in the race to dominate the nuclear age… and the atomic bomb.
After the war, and well into the 21st Century, we are treated to an amazing recovery of perhaps Gustav Mahler's greatest song and with it, a tale of brutality beyond measure in an attempt to save it.
'You possess an incredible wealth of material and know all the sources that could possibly consulted on the subject. It is important to 'strike the right balance' which is a question that is not so easily answered. To my mind, you have already succeeded – you made a choice – very dramatic – indeed: perhaps the most tragic – examples of the fates of Mahler's family and friends'.
Andreas Michalek Internationale Gustav Mahler Gesellschaft
Published: March 2015
Pages: 828
ISBN: 978-1-909874-73-2
Size: 234 x 156
Price: £15.50
Format: Paperback
Available to buy at:
Barnes and Noble, Amazon.co.uk, Waterstones, Amazon.com, WH Smiths, Google Books