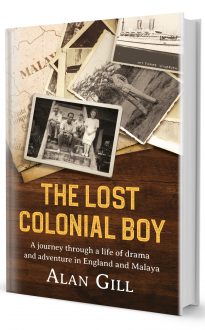 The Lost Colonial Boy by Mereo Books
by Alan Gill
The Lost Colonial Boy found its roots in the hills and dales of Yorkshire, England.
This fascinating book bridges four generations, World Wars, service to country, the wonderful power and strength of women, loves won and lost, and tragedy. Out of these came the opportunity for a young boy to grow and absorb the cultures, not only of his native land, but of Malaya and it's diverse history and people.
The people are real, we are touched by their histories, and their narratives welcome and reveal memories of times past, and experiences in the present. A moving adventure through an extraordinary life.
Published: 1 October 2021
Pages: 200
ISBN: 978-1-86151-983-2
Size: 234 x 156
Price: £10.00
Format: Paperback
Available to buy at:
Barnes and Noble, Amazon.co.uk, Waterstones, Amazon.com, WH Smiths, Google Books and all good bookstores