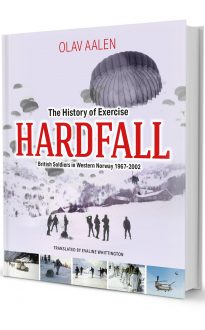 The History of Exercise Hardfall by Mereo Books
by Olav Aalen
The "Story of Hardfall" is a book about the 35 winters in the Voss mountains of Norway which, for most of those years, involved about 1500 British soldiers and over 100 Norwegian officers who served as liaison officers and instructors. The British were there to train under Arctic conditions, to learn to ski and to survive outside under conditions they certainly were not used to. Exercise Hardfall had a large impact on the Voss area during those winters. Some of the training also took part in the Hardanger, Sogn and Nordfjord.
In this book, about 30 people have written about their memories from Exercise Hardfall. This book is about tough treks in snow and bitterly cold weather, about dramatic experiences and about friendship and co-operation. The book is richly illustrated.
The original Norwegian publication was compiled by Olav Allen (b. 1934) from Eikefjord. He is a farmer and a Major in the Norwegian Norway's home guard, the Heimevernet. He has farmed since 1959 and worked in the Services for 7-8 years. He took part in 25 Hardfall exercises and also one winter with the RAF in Sandane/Anda. Aalen has also been the leader of the Districtboard HV-10 for 8 years, a member of Flora town council for 12 years and the leader for various agricultural organisations.
Original Norwegian Contributions (translated by Evaline Whittington) are from: Bjørn Bergene, Erling Bjømetun, Ole Børsheim, Bjøm Christensen, Bente Elin Erga, Ivar Flatabø, Herman Goderstad, Geir Birger Haug, Sigurd Hellstrøm, Ame Hjeltnes, Karl Olav Hofseth, Aksel Haagaas, Ivar Johnsen, Håkon Joys, Fredrik Litleskare, Jon O. Nummedal, Gunnar Nygjerd, Jon Rogstad, Andres Stalheim, Rolf Strøm, Bodvar Sølvberg, Håkon Thoresen, Jon Ytrehom & Olav Aalen.
English language contributions: Charlie le Brun, Mike Jackson, Jacques Lafourcade, Rod Mallette, Bob Morris and John le Quesne, Alan Gordon & Iain Whittington
Published: 1 March 2020
Pages: 200
ISBN: 978-1-86151-960-3
Size: 230 x 210
Price: £15.00
Format: Paperback
Available to buy at:
Barnes and Noble, Amazon.co.uk, Waterstones, Amazon.com, WH Smiths, Google Books