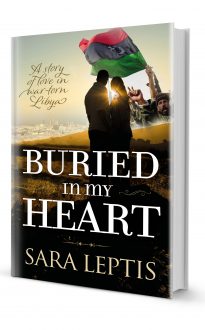 Buried In My Heart – by Mereo Books
by Sarah Leptis
This is the story of a young Libyan woman (Sara Leptis is not her real name) who graduated in England full of dreams and ambitions but returned to her home city of Tripoli to face only tragedy, disaster and deprivation when civil war broke out there in 2011. The author tells how she fell in love with a man she met on the streets of her city before their world began to implode in the
aftermath of the Arab Spring. It is a story of a country in crisis, and how a terrible civil war changed the fate of two lovers. It is also an eyewitness account of the
way a land which had been a peaceful, productive north African paradise became the impoverished, unstable war zone it remains today.
Published: 18 December 2020
Pages: 164
ISBN: 978-1-86151-743-2
Size: 203 x 127
Price: £10.00
Format: Paperback
Available to buy at:
Barnes and Noble, Amazon.co.uk, Waterstones, Amazon.com, WH Smiths, Google Books