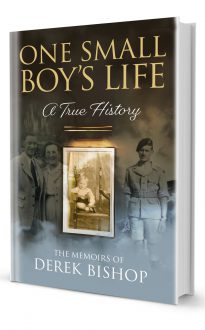 One Small Boys Life by Mereo Books
by Derek Bishop
Derek Bishop was born to a down-to-earth Essex family a few years before the outbreak of World War 2, and his earliest memories are of the London bombs and watching the anti-aircraft guns at work night after night.
As a young teenager he fell head over heels for the girl next door, who soon became his bride. A resourceful young man, Derek hadn't been married long before he built a house for them. His skills and sense of enterprise soon led him to build a successful property business.
In this book he looks back from his later years on a life of adventure, triumph and occasionally tragedy.
Published: 1 October 2021
Pages: 144
ISBN: 978-1-86151-351-9
Size: 203 x 156
Price: £10.00
Format: Paperback
Available to buy at:
Barnes and Noble, Amazon.co.uk, Waterstones, Amazon.com, WH Smiths, Google Books and all good bookstores