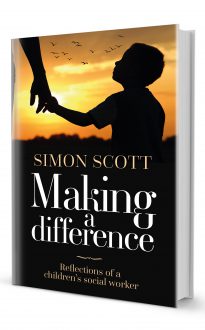 Making a Difference – by Mereo Books
by Simon Scott
REFLECTIONS OF A CHILDREN'S SOCIAL WORKER
Simon Scott worked as a children and families social worker for more than forty years in South Africa and the UK, dealing with a wide variety of domestic crises and helping hundreds
of children to find safety and security with their families or elsewhere. It has proved a demanding but rewarding career, but the knowledge that most of the children Simon has worked
with have been given a new opportunity to lead happy and secure lives has made it all worthwhile.
Proceeds from the sale of this book will be donated to the Social Workers' Benevolent Trust, whose aim is to help social workers who find themselves in financial difficulties.
Published: 25 November 2020
Pages: 154
ISBN: 978-1-86151-843-9
Size: 203 x 127
Price: £10.00
Format: Paperback
Available to buy at:
Barnes and Noble, Amazon.co.uk, Waterstones, Amazon.com, WH Smiths, Google Books