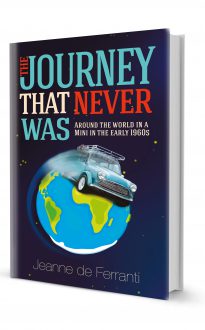 The Journey That Never Was by Mereo Books
by Jeanne de Ferranti
To Jeanne de Ferranti's business-minded parents, it was dismissed as an irresponsible waste of time, and it quickly became 'the journey that never was'. It didn't enter the record books, and it was never reported in the press. But to Jeanne and her friend and co-driver Jane, it was rather a big adventure. Back in the early 1960s, as two young women in their twenties, they drove one of the first Minis right round the world, and made it home in one piece.
The pair survived endless mechanical breakdowns and a major road accident, enduring hunger, thirst, poverty, bureaucratic red tape and food which ranged from the delightful to the disgusting. They frequently had to fight off the attentions of amorous men, even, at one point, escaping from an attempted rape at knifepoint. But along the way they experienced the kindness of many strangers and saw some of the greatest sights the world has to offer, finally making it safely home two years after they had set out.
This, half a century on, is Jeanne's enthralling account of the round-the world adventure which at the time was simply swept under the carpet.
To see our Refunds and Returns policies click here
Published: May 2015
Pages: 300
ISBN: 978-1-86151-370-0
Size: 203 x 178
Price: £6.00
Format: Paperback
Available to buy at:
Barnes and Noble, Amazon.co.uk, Waterstones, Amazon.com, WH Smiths, Google Books