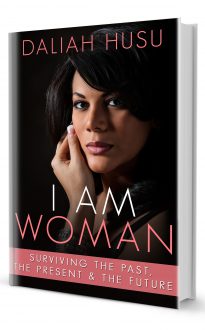 I Am Woman by Mereo Books
by Daliah Husu
Daliah Husu is a transgender writer and poet whose work focuses on themes of love, self-acceptance and spiritual and emotional fulfilment. Her lifelong struggle with gender identity, sexuality, social acceptance, and substance abuse has inspired her to share her remarkable story.
Living the life of her dreams won't be easy – especially since she was born male. But her dream life may yet come true – if she truly wants it.
In this raw and emotionally charged memoir, Daliah Husu declares her trans womanhood with an honest and authoritative voice. Searching for her true identity, yearning for her mother's acceptance, and desperate to find love, Daliah shares her painful, yet enriching journey into self-actualisation and womanhood – a journey that starts as a young boy growing up without his father or mother in the slums of Santo Domingo, and who later transforms into a young woman obsessed with the attention of men, forced into sex work, and haunted by alcohol and drug abuse.
Remarkably, I Am Woman emphasises that in the midst of our loneliness, suffering and darkness, our hopes and dreams continue to illuminate our path to personal freedom, survival and ultimately love.
See more about Daliah here
Published: September 2016
Pages: 252
ISBN: 978-1-909874-96-1
Size: 203 x 127
Price: £9.99
Format: Paperback
Available to buy at:
Barnes and Noble, Amazon.co.uk, Waterstones, Amazon.com, WH Smiths, Google Books