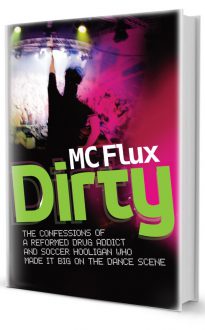 Dirty
by MC Flux
MC Flux, AKA Carl Rodney Thomas, is a top drum and bass MC, a UK pioneer in this type of dance music. Inspired in his teens by reggae, back in the 90s he became Youth Champion of the Reggae Young Sounds competition. Talent-spotted for top clubs, he was soon the MC of choice for raves such as Innovation, Desire, Dreamscape, World Dance, Innocence and Helter Skelter. He even formed his own clothing company. But Flux has spent plenty of time on the dark side and dicing with the law – he has often been in the front line during violent clashes at soccer matches, and his involvement with drugs led to him serving a prison sentence for false imprisonment and demanding money with menaces.
Dirty is his raw, colourful story, written with the help of his close friend Peter Spence, better known in the dance world as Pete Nice.
Vivid and explicit, this is not a story for the faint-hearted.
Published: March 2015
Pages: 350
ISBN: 978-1-86151-355-7
Size: 202 x 157
Price: £12.99
Format: Paperback
Available to buy at:
Barnes and Noble, Amazon.co.uk, Waterstones, Amazon.com, WH Smiths, Google Books