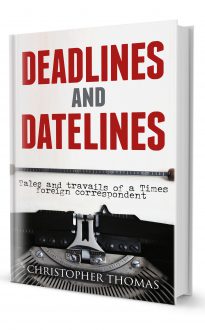 Deadlines and Datelines by Mereo Books
by Christopher Thomas
Christopher Thomas' driving ambition as a boy was to become a foreign correspondent. Refusing to be held back by a poor secondary modern school education and a single GCE 'O' level, he learned shorthand to get a job as a trainee on the local newspaper.
Determination and a good deal of bluffing drove him to the top of his profession, and he went on to work for The Times for 28 years. As a foreign correspondent he saw conflicts and suffering in dozens of countries, but amid the wreckage of ordinary people's lives there was always humanity and heroism, and sometimes even hope.
As a long-time foreign correspondent, based in the South Asia for The Times of London he spent a decade in and around India and has valuable insights into the situation in Pakistan, Afghanistan, Kashmir and India.
Previously author of Faultline Kashmir, published by New Millennium Press and with insights into Afghanistan, Pakistan, India and Kashmir, Christopher Thomas has read and researched deeply into the history of the area, and he has reached a number of uncomfortable but undeniable conclusions that are worth pondering as India, Pakistan, Afghanistan and Kashmir once again erupts in conflict or potential conflict while contemplating, for the first time in years, the tortuous path to peace.
He is bluntly critical of all parties, observing that Pakistan has "shattered its own democracy" in military pursuit in Kashmir and Afghanistan and its guerrillas have "hijacked the people's rebellion" in the name of jihad.​
Published: 1 October 2021
Pages: 286
ISBN: 978-1-86151-014-3
Size: 203 x 127
Price: £14.00
Format: Paperback
Available to buy at:
Barnes and Noble, Amazon.co.uk, Waterstones, Amazon.com, WH Smiths, Google Books and all good bookstores