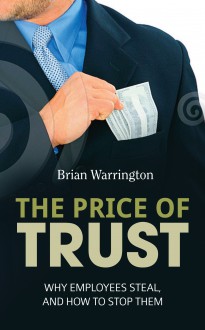 The Price of Trust
by Brian Warrington
Employees are important to any thriving business but can the people you employ potentially cause your company's downfall? Dr Brian Warrington provides an unrivalled insight into stopping theft in the workplace. Occupational fraud – stealing from your employer – is booming across the globe and is costing companies millions. In the USA it is the fastest-growing form of crime and responsible for one in three business failures. In the UK, 72 percent of employees admitted to stealing from their firms more than once.
Dr Brian Warrington knows the damage that occupational fraud can cause. When the company he chaired fell victim, he began to research how to prevent this devastating crime. Following meticulous research into the behaviour patterns of potential perpetrators, Brian has now compiled his studies into this vital guide for employers to utilize in tackling occupational fraud, looking at how tell-tale personality disorders and early warning signs can be used to prevent the crime before it occurs.
The Price of Trust is the perfect solution to preventing workplace theft and building trust to make your business a more successful, crime-free environment.
Published: March 2014
Pages: 250
ISBN: 978-1-86151-103-4
Size: 127 x 203
Price: £12.99
Format: Paperback
Available to buy at:
Barnes and Noble, Amazon.co.uk, Waterstones, Amazon.com, WH Smiths, Google Books