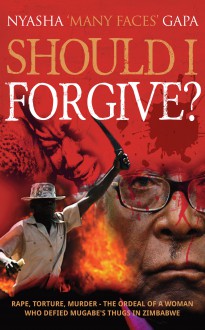 Should I Forgive?
by Nyasha 'Many Faces' Gapa
The courageous few Zimbabweans who dared to stand up to President Robert Mugabe and his Zanu PF party in the election campaigns of 2008 were persecuted, assaulted and in many cases brutally murdered. Should I Forgive is based on the experiences of a young wife and mother, Nyasha Gapa, who was raped and beaten for daring to campaign for Morgan Tsvangirai's opposition party MDC (Movement for Democratic Change). While many of the details of the story have been changed to protect Nyasha's family and friends from further violence, all the events related in this tragic story, from the sadistic beating of Nyasha's husband to their flight to South Africa, their exploitation by a white farmer, the racist persecution the refugees experienced there and the catastrophic fire, actually happened.
Should I Forgive? is a heart-breaking story of staggering courage, endurance and love.
Published: March 2012
Pages: 252
ISBN: 978-1-90954-425-3
Size: 234 x 156
Price: £12.99
Format: Paperback
Available to buy at:
Barnes and Noble, Amazon.co.uk, Waterstones, Amazon.com, WH Smiths, Google Books