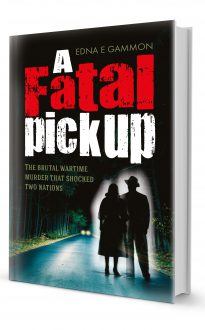 A Fatal Pickup – the Cleft Chin Murder by Mereo Books
by Edna Gammon
On an October night in 1944 on a lonely highway on the outskirts of London, a young soldier who had deserted from the US Army and his teenage partner hijacked a hire car and robbed and brutally murdered the unsuspecting driver. The case made headlines on both sides of the Atlantic and was known at the time as the Cleft Chin Murder. It was seen by the Germans, who were on the retreat from the Allies after D-Day, as a valuable means of encouraging hostility between Britain and the USA.
22-year-old Karl Gustav Hulten went to the gallows a few months later for his crime; when his 18-year-old accomplice, Elizabeth Maude Jones, was spared the same fate at the eleventh hour by a compassionate Home Secretary, it caused public outrage.
Edna Gammon was a young girl when the killing took place, but she well remembers the case. She has now pieced together the full story, complete with a full account of the subsequent trial, for this book.
Sample Chapter 1
The GI and the girl from South Wales Karl Gustav Hulten was born in Stockholm to Swedish parents on the 3rd March 1922. His father was Gustaf Adolf Hulten, born on 2nd November 1876 at 9 Rosenbad in Karlstad; his mother was Signe Maria Hulten (nee Jansson) born 22nd January 1895 at 4 Hjarnegatan Kungsholmen, Stockholm. Karl was baptised on the 5th September 1922 at Kristinehamn.
While Hulten was still a baby, his parents separated. In 1923 his mother emigrated with her baby son to America in the hope of a better life. Mrs Hulten found work in Boston, Massachusetts, as a domestic worker in a wealthy American household.
On leaving school Hulten took a job as a grocer's clerk, then a lorry driver for the Salvation Army and finally a driver for a car rental company. This was the start of his great passion for motorcars. His mother always claimed he was a good son and never gave her any cause for concern.
Hulten also went to the Farm And Trade School at Thompson's Island, Boston. The headmaster at the time was William M. Meacham, who said Hulten had an IQ of 96, slightly below average.
On an evening out with friends, Hulten met dark-haired Rita Pero and fell in love with her; they married after a brief courtship. The marriage produced a baby daughter, who they named Jean.
After the bombing of Pearl Harbour which brought the United States into the war, Hulten was inducted into the Army on the 7th May 1942 and sent to Fort Benning, Georgia, for training as a paratrooper.
Reports say his Army record in America was satisfactory, but it was claimed he had a weak character and was easily led and careless with money. He was never short of girlfriends.
Hulten's unit sailed for England in January 1944 in preparation for D-Day. Little did he know it was the last time he would see America and his family.
Elizabeth Maude Jones nee Baker  was born on the 5th July 1926 at Brynbedw, Lonlas, Skewen, Neath, South Wales, to Arthur Thomas Baker and Nellie Baker. Arthur Baker worked as a labourer in an oil refinery. She had an elder sister, Gwladys, who was a semi-invalid, and Baker would always claim her parents lavished all their love and attention on her.
Baker became wilful and rebellious at an early age and eventually her parents were unable to control her. Several times she ran away from her home and was found by the police roaming the streets of Swansea.
Her parents had no choice but to seek the help of the Juvenile Court, who without hesitation sent her to an approved school in Sale, Cheshire.
For a short time Baker responded to the strict rules of the school, but again her rebellious nature surfaced and she ran away back to her distressed parents. They were not prepared to cope with their wayward daughter, and she was taken back to the approved school.
Nearing the age of fifteen, Baker became interested in dancing, and the school encouraged this as they hoped it would take her mind off trying to run away. It became an obsession with her and she dreamed of being a star in London's nightlife. She enticed another girl at the school to run away with her to London. One night they stole clothes and money and left the school. Together they went from one London dance hall to the next, dazzled by the music and the crowded dance floors, and Baker was truly hooked.
The police discovered them sleeping rough and they were taken back to the school under escort. For the next few months Baker behaved herself, but she was unable to forget the glittering world of London's nightlife.
The school decided soon after her sixteenth birthday to send her home for a short holiday as a test of her behaviour. During this holiday she met a young man who her parents had known for some time, Stanley Jones, a Corporal Gunner in the Airborne Forces. In the cunning mind of Baker, Jones was going to be the means to get her away from the life she was leading and from the approved school.
Jones was attracted to her and was surprised when she agreed to marry him at sixteen. Her parents were alarmed when Baker told them, as they did not consider her fit to marry at such an early age, but Baker made it clear that she would never go back to the approved school and would leave Neath if she had to. Her parents knew they had to give in, so the couple were married at Neath Registry Office in November 1942.
This sixteen-year-old's plan was now in motion, and furthermore she had an Army allowance to sustain her. Reports say the marriage was never consummated and a few days following their wedding she quite coolly told Stanley Jones she was leaving both him and Neath, and there was nothing he could do about it. Her new life was about to start – and what a life it was going to be.
Published: March 2015
Pages: 412
ISBN: 978-1-86151-400-4
Size: 203 x 127
Price: £12.99
Format: Paperback
Available to buy at:
Barnes and Noble, Amazon.co.uk, Waterstones, Amazon.com, WH Smiths, Google Books