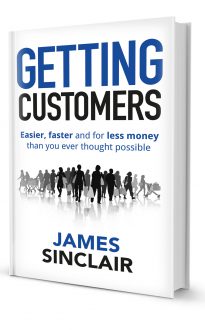 Getting Customers by Mereo Books
by James Sinclair
Winning customers is the lifeblood of any business, yet so many people fail dismally at it. James Sinclair knows how it's done – In 15 years he has built a one-man business as a children's clown into a multi-million-pound enterprise with a network of companies and over 400 employees. In this book he lets eager business owners into his secrets for getting the right customers, fast, to make their businesses grow.
Discover:
1. How to choose and target the right customers.
2. How to identify the right message.
3. How to use the right media.
4. How to use design to gain customers.
5. How to use words to get attention.
6. How to build – and use – a customer database list that WORKS.
To see our Refunds and Returns policies click here
Published: December 2019
Pages: 144
ISBN: 978-1-86151-944-3
Size: 203 x 127
Price: £9,50
Format: Paperback
Available to buy at:
Barnes and Noble, Amazon.co.uk, Waterstones, Amazon.com, WH Smiths, Google Books