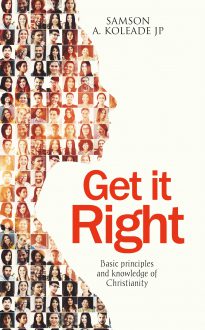 Get it Right
by Samson Koleade JP
Basic principles and knowledge of Christianity
The author, a committed Christian and teacher, has written this book to introduce people to the basic principles and knowledge of Christianity and to enable us to enjoy its full benefits. Why believe in the Christian God? Why do people believe in Him through Jesus today? Why will some people insist that the way of worship which they have is the only right way to God? What is behind the Christian belief? Do you have to leave your religion behind and take up Christianity? If you were born into Hinduism, paganism, or Islam, or are an Orthodox Jew or an atheist, is it OK to remain in your religion or do the scriptures says otherwise?
The purpose of this book is to enable us to see and reason within ourselves as to which of the ways that we know is
the right way and which way we want to go.
Published: October 2017
Pages: 172
ISBN: 978-1-86151-830-9
Size: 203 x 127
Price: £12.99
Format: Paperback
Available to buy at:
Barnes and Noble, Amazon.co.uk, Waterstones, Amazon.com, WH Smiths, Google Books