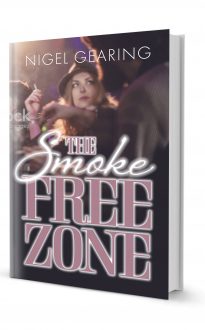 The Smoke Free Zone by Mereo Books
by Nigel Gearing
In the early years of the twenty-first century, Hadley, an attractive young American, comes to London to pursue postgraduate studies. She is soon drawn into the orbit of the brilliant but dangerous theatre director, Zac Slocombe, whose sexual droit de seigneur seems to go as unquestioned and unchallenged as the pervasive cigarette-smoke in the wine bars, pubs and restaurants he frequents.
Against the backdrop of London's theatre world, Hadley's affair with Zac takes her on a journey that includes all varieties of erotic adventure, until she begins to wonder if this is still the ongoing and carefree playground she had imagined or the demise of an era.
Is Hadley merely an innocent abroad? A willing victim? A hypocritical facilitator? Perhaps only time will tell…
A sophisticated, sexy novel about the glamorous world of the theatre.
To see our Refunds and Returns policies click here
Published: 1 March 2019
Pages: 236
ISBN: 978-1-86151-917-7
Size: 203 x 127
Price: £10.00
Format: Paperback
Available to buy at:
Amazon