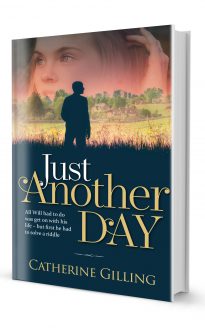 Just Another Day by Mereo Books
by Catherine Gilling
A new start, a new home, a different life; the pleasant village of Craddle seemed an ideal place for Will Fisher to start again. Here he would be able to forget the trauma and unpleasantness of his past and replace his anxiety with hope for the future. Which was why he did not mind when he and his neighbour became involved with a riddle which would test their ingenuity to the limit.
Their mission to find certain missing artefacts and work out who might have taken them became an absorbing challenge. Despite certain romantic complications getting in the way, and a perplexing lack of clues, Will was determined to play detective and solve the mystery.
After all, what harm could a little detective work do?
Published: 1 December 2021
Pages: 280
ISBN: 978-1-86151-586-5
Size: 203 x 127
Price: £10.00
Format: Paperback
Available to buy at:
Barnes and Noble, Amazon.co.uk, Waterstones, Amazon.com, WH Smiths, Google Books and all good bookstores