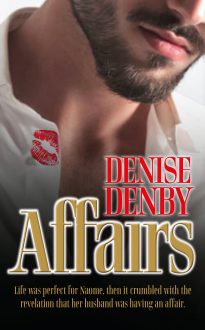 Affairs
by Denise Denby
Life was just about as perfect for Naome Hanson as it could be. She was a beautiful and talented picture restorer, with a vast knowledge of antiques. She had her own art gallery at home, a magnificent rambling house, gardens, paddocks for race horses, all set in acres of land on her husband's large country estate. Suddenly her perfect life crumbled with the revelation that her husband was having an affair.
Naome decides to leave her husband to start a new life and takes up a position at Uxbridge antiques owned by Stavos Lingsham and managed by Peter Bodenham. Both Peter and Naome seek to build a new life after their varied experiences. Through friends, Naome meets Frank Fitzhoward, a dashing, handsome and determined man who wants her for himself and he always plays to win. Stavos also an antique dealer becomes central to Naome's life. During a tumultuous affair with him she hopes for marriage, but his wife and two children stand in the way.
This is a gripping story of believable people whose lives become intertwined. There is raunchy sex, tragedy, great humour, warmth and most of all the huge variables in human nature.
Published: October 2019
Pages: 420
ISBN: 978-1-86151-945-0
Size: 229 x 152
Price: £13.99
Format: Paperback
Available to buy at:
Barnes and Noble, Amazon.co.uk, Waterstones, Amazon.com, WH Smiths, Google Books