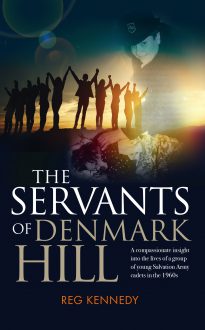 The Servants of Denmark Hill
by Reg Kennedy
Reg Kennedy offers a powerful and compassionate insight into the lives of a group of young Salvation Army cadets in the early 1960s. We follow their journeys from first hearing the Call through to their Salvation Army officership. With vivid and evocative dialogue and prose, we see the joys and hardships faced by the cadets and the often heart-wrenching decisions they are forced to make. They struggle with their sexuality and with being trained to serve in an Army ill-equipped to meet rapid societal changes. The story is based on real events, in London, Australia, Korea, Poland, Moscow and Aberfan. Reg Kennedy worked for much of his life in BBC radio. He interrupted that work to be trained as a Salvation Army officer. He has also worked with the Lutheran World Federation's Radio Voice of the Gospel in Ethiopia and with Trans World radio in Holland. He is married to Vieno and lives in Finland.
From Canon David Winter:
An astonishing story, really, because Reg Kennedy has found a body of witnesses who…provide a unique insight into the religious scene in Britain in the Swinging Sixties. I love their honesty and their vulnerability – and we all thought we were so sophisticated! The book balances well between specialist interest to Salvation Army members and a wider readership. Many of the issues of course are common to all the churches, especially the evangelical/charismatic ones. There are issues of manipulation and of peer pressure, just a touch of 'sect' – but also a splendid and almost naive faith in the message. …It's a magnificent human document, a true to the heart record, and because of that it speaks to the heart. We wince and weep with these young men and women, and celebrate with them too.
Canon David Winter.
Published: May 2019
Pages: 304
ISBN:
Size: 203 x 127
Price: £12.99
Format: Paperback
Available to buy at:
Amazon.co.uk, Amazon.com, Google Books