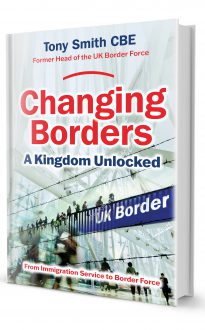 Changing Borders by Mereo Books
by Tony Smith
About Changing Borders
Tony Smith CBE spent his career managing our UK border controls, from junior immigration officer to Head of the UK Border Force. He spent more than four decades in the front line of the conflict between those who argue for open borders and free movement and those whose focus is on building barriers. He played a prominent role in managing security on both sides of the Atlantic after the 9/11 attacks in North America. Along the way he has worked constantly to make controls more efficient, better informed and fairer, yet less vulnerable to abuse. After retirement in 2013, he became a prominent media spokesman on border control issues, from tackling legal immigration crime, human smuggling and terrorist travel to managing borders through Brexit and beyond. This is his story.
About Tony Smith
Author Anthony John Smith CBE is a global border security consultant and former Director General of the UK Border Force. He was previously Gold Commander for the London 2012 Olympic Programme and Regional Director for London and the South East in the UK Border Agency. He is a regular expert commentator on Global Border Management and Security Practices in UK media and chairs expert panels on border and immigration conferences around the world including the International Summit on Borders in Washington DC with former US CBP Commissioner Rob Bonner and at Secure Document World in London. He became International Liaison Director at Borderpol in 2013 but resigned in 2016. He is also the founder and chairman of the International Border Management and Technologies Association (IBMATA). Tony Smith was appointed as a member of the Expert Panel to the Parliamentary Commission for Alternative Arrangements for the Irish Border in April 2019.
Praise for Tony Smith
"A fascinating memoir/social history of immigration control from the 1970s to today" David Goodhart, UK Policy Exchange.
"I can think of no better person to write about this subject than Tony Smith." Theresa May MP, former UK Prime Minister.
"A candid account of life at the sharp end by a man who rose from the front line to the very top of the UK Border Force" Sir Mark Sedwill, former UK Cabinet Secretary and National Security Adviser.
​"A ringside role in dealing with the fallout from some of the worst terrorist attacks in history." Charles Hymas, Home Affairs Editor, Daily Telegraph.
​
Published: 5 April 2022
Pages: 366
ISBN: 978-1-86151-062-4
Size: 203 x 156
Price: £11.00
Format: Paperback
Available to buy at:
Barnes and Noble, Amazon.co.uk, Waterstones, Amazon.com, WH Smiths, Google Books and all good bookstores