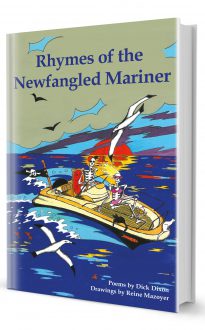 Rhymes of the Newfangled Mariner
by Dick Dixon
Following 'Rhymes for No Reason', his first exploration into the wilds of humorous nonsense poetry, Dick Dixon has now embarked on a new journey with  'Rhymes of the Newfangled Mariner'. There is little evidence of actual seafaring in this new volume, it must be said, and while it may be a comfort to have it handy on a long voyage, the book will not actually assist much in the process of dead-reckoning. However, there are other advantages.
Contained within are over thirty rhyming poems about all manner of unusual subjects, including the ticklish problem of what to do if the elephant in your room goes missing, and also of course how to handle the discovery of waking in a cooking pot while gradually becoming someone else's lunch. Such problems are not commonplace, and neither is the unnerving discovery that your bathtub, full of hot water and of course your good self, has suddenly decided to convert its legs into a working version in order to go on a walk around town.
Each poem is illustrated in full and glorious colour by the well-known French artist Reine Mazoyer, who, having survived the last journey, agreed to join in.
I think you will agree that she has made a brilliant contribution.
We do hope you will enjoy your voyage with us.
Published: 1 October 2021
Pages: 106
ISBN: 978-1-86151-350-2
Size: 234 x 156
Price: £10.00
Format: Paperback
Available to buy at:
Barnes and Noble, Amazon.co.uk, Waterstones, Amazon.com, WH Smiths, Google Books and all good bookstores