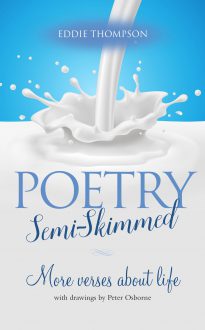 Poetry Semi-Skimmed
by Eddie Thompson
This is the fourth collection of Eddie's poetry; he says that the verses hover somewhere between doggerel and light verse. He also says:
Serious poetry is mainly melancholy,
As serious poets are, mainly, off their trolley,
So don't expect anything grand,
It's simple fare, borderline bland.
But may these short and simple rhymes,
In these tense and troubled times,
Give you cause to pause awhile,
And as you read them, bring a smile.
Published: June 2018
Pages: 124
ISBN: 978-1-86151-893-4
Size: 203 x 127
Price: £9.99
Format: Paperback
Available to buy at:
Amazon.co.uk, Amazon.com, Google Books