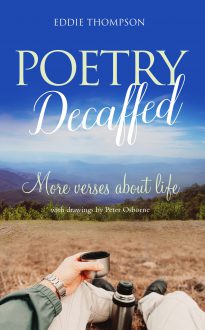 Poetry Decaffed
by Eddie Thompson
This collection of Eddie's light verse, Poetry Decaffed, completes a trilogy which began with Poetry Lite and continued with Poetry Free Range. Verses in all three collections touch lightly, briefly and often humorously on life. He writes of this volume:
These verses will neither excite nor disturb,
But you have to admit that the cover's superb.
And he does hope that at least, they will bring you a smile.
Published: October 2017
Pages: 116
ISBN: 978-1-86151-797-5
Size: 203 x 127
Price: £9.99
Format: Paperback
Available to buy at:
Barnes and Noble, Amazon.co.uk, Waterstones, Amazon.com, WH Smiths, Google Books