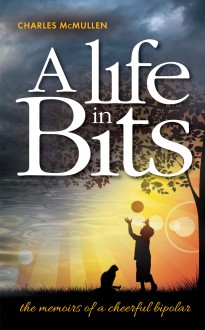 A Life in Bits
by Charles McMullen
A Life in Bits is the moving story of one man's battle with bipolar disorder, a condition whose devastating consequences are still not fully appreciated by the world at large. Charles McMullen's battle with manic depression, as it is often known, began with a nervous breakdown at the age of nineteen.
In his twenties, the suicide of his brother, his own divorce and the loss of his job and his home put him inside a psychiatric hospital. Yet despite the periods of appalling despair and the continued setbacks, Charles can still write at the end of the book 'Overall, it's been a pretty happy life'.
This inspirational book will be of great interest to anyone who is afflicted by bipolar disorder, or knows one of the many people – roughly one in 25 of the population – who are.
Published: Thursday, 1 May 2014
Pages: 96
ISBN: 978-1-86151-139-3
Size: 127 x 203
Price: £12.99
Format: Paperback
Available to buy at:
Barnes and Noble, Amazon.co.uk, Waterstones, Amazon.com, WH Smiths, Google Books