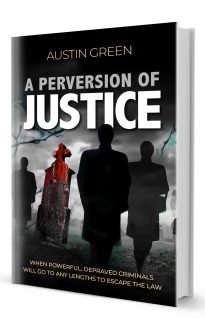 A Perversion of Justice by Mereo Books
by Austin Green
A Perversion of Justice – one of the most gripping crime thrillers of the year. Former senior Met officer Austin Green creates an addictive crime thriller full of breath-taking twists based on his true life experience. Out now.
In the sleepy village of Etwell, an innocent young boy has been abducted and brutally murdered.
As it emerges that there may be more young victims concealed in the ancient graveyard, the local vicar, former army padre Daniel Carter, is drawn into the mystery, and he begins an affair with an attractive young reporter who has a personal interest in the case.
As the police uncover evidence that the scale of the crime may be much bigger than anyone had imagined, the trail begins to lead to a suspected circle of paedophiles from the most powerful levels of society.
An enthralling crime thriller from the pen of a retired Metropolitan Police officer.
To see our Refunds and Returns policies click here
Published: 1 June 2019
Pages: 320
ISBN: 9-781-861-519-276
Size: 203 x 127
Price: £9.99
Format: Paperback
Available to buy at:
Amazon