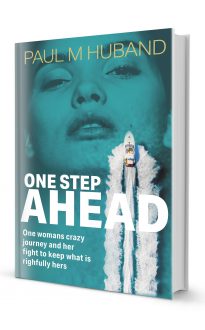 One Step Ahead by Mereo Books
by Paul Huband
Tracy comes from a very ordinary working-class home but has the self belief and confidence to 'get on' although entirely ignorant about how to do it.
However, things soon change when she secures a job on Financial Today newspaper. She's told by her boss that she can attend courses to learn more about business and how 'city institutions work'.
She enrols, but soon after starting realizes that her tutor and another student are in a relationship and are embarking on illegal schemes to deal in shares from the inside. This is also with the help of another student who works for an oil company. They plant a story that there is corruption in the oil company and the shares plummet allowing them to buy a large number of shares.
However, Tracy finds out that the three of them have used her by tape recording her conversations after taking an interest in insider dealing, in the hope that they can put the blame on her.
The three underestimate Tracy because she records their conversations about the scheme.
Finally, there is a series of trials for the three culprits during which Tracy is threatened, culminating in an attempt on her life, in an attempt to dissuade her from giving evidence. She isn't dissuaded but she pays a high price when her parents are murdered.
Tracy is now all alone until her lawyer comes to the rescue and they begin an affair, but as fate has it, the solicitor doesn't turn out to be as honest as Tracy first thought.
Published: 1 October 2021
Pages: 194
ISBN: 978-1-86151-019-8
Size: 203 x 127
Price: £10.00
Format: Paperback
Available to buy at:
Barnes and Noble, Amazon.co.uk, Waterstones, Amazon.com, WH Smiths, Google Books and all good bookstores