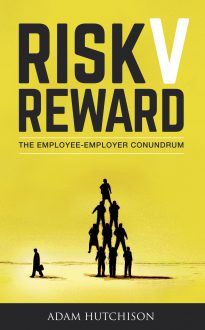 Risk V Reward
by Adam Hutchison
Adam Hutchison has learned the hard way how to run a company and manage staff, through wide experience in senior positions in the telecomms and private healthcare sectors. Now he has distilled his knowledge and experience into Risk vs. Reward, a down-to-earth and straight-to-the-point account of what really matters when making a business really perform, including:
Choosing, hiring, managing and retaining staff
Motivating and mentoring
Recognising and managing different personality types
Management structure and how to make it work
Creating and maintaining a culture
The author knows it's people that make a business great, and this book shows how to get the best out of those within your teams.
Written by a senior executive with wide and varied industry experience.
Will enable any junior or middle manager to get better results from staff.
Detailed examples throughout to show how to make it work.
Published: June 2017
Pages: 200
ISBN: 978-1-86151-608-4
Size: 203 x 127
Price: £12.99
Format: Paperback
Available to buy at:
Barnes and Noble, Amazon.co.uk, Waterstones, Amazon.com, WH Smiths, Google Books