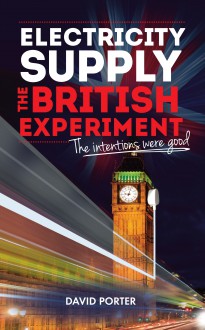 Electricity Supply – The British Experiment
by David Porter OBE
In Britain, most of us take electricity for granted. When there are power cuts, we are shocked by the gloom and the silence and how dependent on electricity we have become. Critics predicted that the privatisation of electricity supply in 1990 would lead to power shortages. Elsewhere in Europe it was sometimes dismissed contemptuously as 'The British Experiment'. But the plan worked. Private investment flowed and customers reaped the benefits. Then it began to go wrong. Governments wanted more and more say, but their policies were often confusing and sometimes merely vote-catching The confidence of investors was damaged. Power stations closed faster than they were replaced. The risk of power shortages increased.
In 1987, David Porter found himself at the centre of the energy supply revolution when he helped to form a new body created to fight for the UK's independent electricity producers. Soon he was also speaking for the companies that had once been state-owned. Battles were fought and often won, but government intervention grew relentlessly. The ideals of the privatisation were forgotten. Politics, rather than the paying customers, drove the industry.
This book is David's story of those eventful years.
Published: December 2014
Pages: 360
ISBN: 978-1-86151-385-4
Size: 203 x 127
Price: £12.99
Format: Paperback
Available to buy at:
Barnes and Noble, Amazon.co.uk, Waterstones, Amazon.com, WH Smiths, Google Books