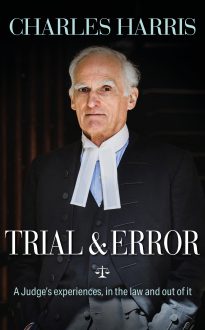 Trial & Error
by Charles Harris
When Judge Charles Harris QC retired in 2017, he was the most experienced and longest-serving member of England's cadre of civil judges. After 26 years as a Barrister, he spent 24 years as a
Circuit Judge, working in Oxford, the Midlands and London, and has dealt with every kind of dispute, from dangerous animals and negligent doctors to the sale of the Ritz Hotel. During this time the law has become steadily more complex, more expensive and harder to use. It is now often impossible for ordinary people to understand, and sometimes hard for judges. This attractively-written book, depicting the texture of judicial life, shows how this has happened, and asks why nothing is done about it.
Besides revealing the judicial world, this book is also an entertaining memoir of life outside the law. The author describes his post- war childhood and education, standing for Parliament, ballooning in India, encounters in Africa, skiing in the Alps, learning to fly, deerstalking, fireworks, and his family and friends in rural North Oxfordshire.
Published: PRE ORDER - AVAILABLE 6TH JANUARY 2020
Pages: 372
ISBN: 978-1-86151-940-5
Size: 229 x 152
Price: £12.99
Format: Paperback
Available to buy at:
Barnes and Noble, Amazon.co.uk, Waterstones, Amazon.com, WH Smiths, Google Books