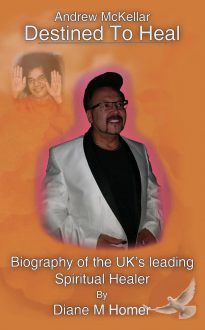 Destined to Heal
by Diane M Homer
As a young child Andrew McKellar knew he was born to fulfill a unique purpose.
He always knew he was destined to fulfill a higher purpose. His parents dismissed the idea, calling him "stupid." During his formative years he heard disembodied voices, had premonitions, saw spirit forms and had many out of body experiences.
After years of suffering, at the tender age of 22 he was told by a medium that he would become a spiritual healer and so it was. For the last thirty-two years Andrew has seen the lame walk, the crippled stand, people cancel operations, arthritis cured, even chiropractors have said that they wish they could do what
Andrew does for back problems. Even countless numbers of cancer patients have been cured, alongside many other so called "incurable" conditions, he claims to be a mere channel of divine energy he say's "I witness these cures take place through me, not from me." He continues to heal the sick and suffering to this day.
Published: June 2018
Pages: 158
ISBN: 978-1-86151-874-3
Size: 203 x 127
Price: £8.99
Format: Paperback
Available to buy at:
Amazon.co.uk, Amazon.com, Google Books