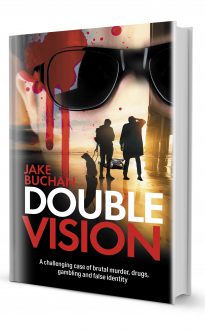 Double Vision by Mereo Books
by Jake Buchan
Three brutal killings, three fake identities. Can a blind detective unravel a tangle of underworld connections to solve three vicious crimes?
When the body of a young man is washed up on the beach in the quiet coastal town of Helmsmouth, blind ex-detective John Steadman has a brutal murder case to solve. When another murder victim is found in the same place, the crime turns into a challenging case of false identity. And then a third body is found,
locked inside a freezer in an abandoned warehouse… Steadman knows the murders must somehow be connected to each other, and to a local restaurateur
who is also a known drug dealer and brothel keeper, but is someone else working behind the scenes to stop him unravelling the case?
Another page-turner from Jake Buchan, author of Blind Pursuit and Second Sight, the first two John Steadman crime thrillers.
Published: 1 May 2021
Pages: 518
ISBN: 9781861519818
Size: 203 x 127
Price: £12.00
Format: Paperback
Available to buy at:
Barnes and Noble, Amazon.co.uk, Waterstones, Amazon.com, WH Smiths, Google Books