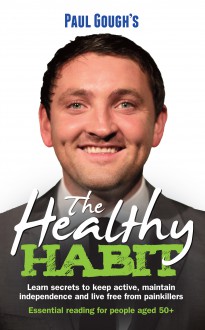 The Healthy Habit
by Paul Gough
Avoid costly mistakes and get CLARITY in the very clouded and often uncertain world of maintaining mobility, independence and living with less pain.
There's no promise that what Paul reveals inside this book will work for you in the same way it has for thousands of his patients. However, reading this book has to be better than spending another day "resting", "accepting" pain, thinking, "it's my age", or worse yet, masking it with painkillers. If you're 50 or over, pain or stiffness affects your job, your ability to keep active, threatens independence or hinders family leisure
time… then it's time to read this book.
And here's what Paul reveals inside:
Little-known secrets to maintaining independence and staying free from painkillers
Why age 50 and sometimes 60 is the age bracket when things can go wrong – and the single best thing to do about it
The big mistake that women (and sometimes men) make when out walking with friends, that makes knee and back pain inevitable
The easiest way to lose weight and protect vital joints – it's the one the "slimming clubs" don't want you to know about!
Why retirement could be harmful to your health
And much more inside!
Paul Gough is a leading UK physiotherapist and founder of the North East's largest independent private physio clinic specialising in helping people in their 50s, 60s, 70s, 80s and beyond, to stay active, maintain independence and live free from painkillers. Paul is the weekly health columnist for two big newspapers, has been featured in The Guardian and is regularly heard on the BBC. He is a former professional football physio and has a long track record of helping people to successfully live life less restricted by pain and stiffness.
Published: April 2015
Pages: 208
ISBN: 978-1-86151-412-7
Size: 178 x 127
Price: £17.99
Format: Paperback
Available to buy at:
Barnes and Noble, Amazon.co.uk, Waterstones, Amazon.com, WH Smiths, Google Books