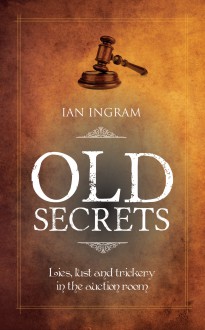 Old Secrets
by Ian Ingram
When priceless pictures and antiques from a wealthy colonel's manor house go on the market after his death, the news well and truly puts the cat among the pigeons. Antiques dealer Freddie Simson hopes to make a killing, while fine art specialist Justin Cransbrook sees an opportunity to reverse the flagging fortunes of his company, and crooked saleroom owners Joe and Alice Dobson make plans to cash in – big time.
The Colonel's disinherited niece, the beautiful and forthright Samantha Rivington-Pratt, is determined to get her hands on some of the treasures which should rightfully have been hers – to say nothing of the handsome young man she finds cutting wood in the grounds of the manor. Meanwhile the Colonel's housekeeper, disapproving of her late employer's taste in paintings, starts consigning them to a bonfire.
Old Secrets is a sexy, light-hearted romp through the world of antiques and fine art, written by an author with a sense of humour as well as a professional knowledge of the antiques world.
Published: September 2014
Pages: 250
ISBN: 978-1-86151-274-1
Size: 203 x 178
Price: £12.99
Format: Paperback
Available to buy at:
Barnes and Noble, Amazon.co.uk, Waterstones, Amazon.com, WH Smiths, Google Books